Marrying The Mafia 2 Enemy In Law (2005) (Region Free DVD) (English Subtitled) Korean movie
$19.99 USD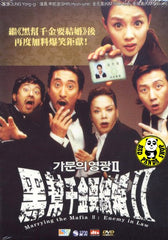 Region Coding:
Region Free

Starring: 
Tak Jae Hoon
Shin Hyun Jun
Kim Won Hee

Director: 
Jung Yong Gi

Audio Tracks: 
Dolby Digital 5.1, DTS Digital Surround

Languages: 
Korean
Subtitles: 
English, Traditional Chinese, Simplified Chinese

Running Time: 
115 minutes

Distributor:
Sky Entertainment Distribution Ltd.

Release Date:
16 Feb 2007

Synopsis:
Mrs Hong, the big boss of a powerful mafia group, gives a mission to her three sons to find an elite daughter-in-law for her first son, In-Jae.
In-Jae finally crashes into a beautiful lady, Jin-Kyung, who looks to be his soul mate. In-Jae is head-over-heels for Ji-Kyung. However, he finds out that Jin-Kyung is a prosecutor and the family seems to be in big danger!
More items to consider...