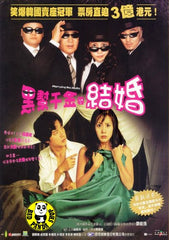 Region Coding:
Region 3 (Locked)

Starring: 
Jin Hee Kyung
Jung Jun Ho
Kim Jung Eun

Director: 
Jung Heung Soon

Audio Tracks: 
Dolby Digital 5.1, DTS Digital Surround

Languages: 
Korean, Cantonese

Subtitles: 
English, Traditional Chinese, Simplified Chinese

Running Time: 
113 minutes

Distributor:
Winson Entertainment Distribution Ltd.(HK)

Release Date:
22 Aug 2003

Synopsis:
Famous mob boss, Triple J's beloved daughter Ji-ja ends up spending a night with a total stranger named Ng Brave-man. Having found out about the night's event, Ji-ja rather violent brothers pay a visit to Brave-man in a n attempt to settle the matter an d force him to marry her sister. During their meetings, Brave-man begins to love Ji-ja and wants to marry her. At their wedding, the other triad comes to attack. The three brothers in order to let the wedding go on smoothly, they fight for the enemy alone. Can they finish the wedding successfully, how can they deal with those matters.
More items to consider...