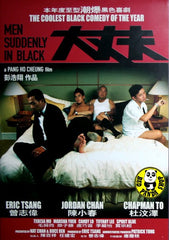 Region Coding: Region Free
Starring: 
Jordan Chan
Candy Lo
Tony Leung Ka Fai
Teresa Mo
Eric Tsang
Chapman To
Li Erica
Sandra Ng
Maria Cordero
Pang Ho Cheung
Lam Suet
Otto Wong Chi On

Director: 
Pang Ho Cheung


Audio Tracks: 
Dolby Digital 5.1

Languages: 
Cantonese, Mandarin

Subtitles: 
English, Traditional Chinese 
Number of DVD: 
2 disc 

Running Time: 
99 minutes

Distributor:
Mei Ah Entertainment (HK)

Release Date:
13 Nov 2003

Synopsis:

In this very funny black comedy starring Eric Tsang and Jordan Chan that is also a parody of the popular triad/gangster action films, four married men decide to cheat on their wives while they're away on a trip to Thailand. But, their plan backfires seriously when their spouses somehow learn about it, and secretly counter their every move. Thinking that there is a traitor among them, the four men must find out who the betrayer is, while making sure that their "cheating" plan succeeds no matter what!
Special Features:

Director's Statement

Making OfDeleted Scenes

Outtakes Footage

Storyboard Comparisons

Theatrical Trailer and TV Spot

Photo Gallery

Data Bank

MTV
More items to consider...