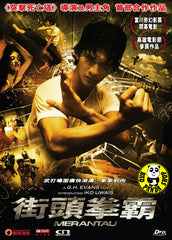 Region Coding: Region A (Locked)

Starring:
Iko Uwais
Sisca Jessica
Mads Koudal

Director:
Gareth Evans

Audio Tracks: 
Stereo

Languages: 
Indonesian

Subtitles:
English, Traditional Chinese

Running Time: 
- minutes (TBA)

Distributor:
CN Entertainment Ltd. (HK)

Release Date:
1 Nov 2013

Synopsis:
Living the simple life of a young man in rural West Sumatera, Yuda must undergo "Merantau," the traditional rite of passage in which a young man leaves home to make a name for himself. Heading to the bustling city of Jakarta, Yuda begins his trial of Merantau. Life in the city is difficult, leaving Yuda homeless and uncertain about his future. After a chance encounter with an orphan named Astri, Yuda is plunged into the violent world of human trafficking where he is forced to go on the run. Relentlessly sought by a European trafficking ring, Yuda has no choice but to face his attackers in an adrenaline charged, jaw-dropping finale.
More items to consider...