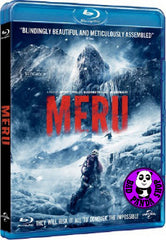 Region Coding: Region A (Locked)

Starring:
Conrad Anker
Jimmy Chin
Renan Ozturk
Jon Krakauer
Grace Chin
Amee Hinkley

Director:
Jimmy Chin
Elizabeth Chai Vasarhelyi

Audio Tracks: 
DTS-HD Master Audio 5.1, DTS 5.1, Dolby Digital 5.1

Language: 
English, Japanese, Italian, Thai

Subtitles:
English, Traditional Chinese, Korean, Indonesian, Italian, Japanese, Thai

Running Time: 
- minutes (TBA)

Production:
Meru Film LLC (2015)

Distributor: 
Sony Pictures / Intercontinental Video Ltd. (IVL) (HK)

Release Date:
15 March 2016

Synopsis:
In the exclusive high-stakes game of Himalayan big wall climbing, the Shark's Fin on Mount Meru is coveted as the ultimate prize. Sitting at the headwaters of the sacred Ganges River in Northern India, the Shark's Fin has seen more failed attempts by elite climbing teams over the past 30 years than any other climb in the Himalaya.

The history of failures and layout of the mountain's perversely stacked obstacles make it both a nightmare and an irresistible calling for some of the world's toughest climbers. From Slovenian, Russian and Czech to British, Spanish and Japanese teams, the suitors who have attempted and failed on the mountain is a who's who list of international climbing talent. In 2008, three American climbers, Conrad Anker, Jimmy Chin and Renan Ozturk arrive in India to make an attempt. Surviving a massive storm on the wall and battling for 19 days through sub zero temperatures with only 8 days of food, they are beaten back just 100 meters below the elusive 21,000ft summit. After swearing off the route and returning home, family, friendship, loyalty and the will to continue dreaming of the impossible climb are tested by loss and disasters that conspire to keep them from returning to the Shark's Fin for one last try.

With intimate interviews and narration from Jon Krakauer, the film examines obsession, friendship, dreams and sacrifice, on and off one of the world's most difficult mountains.

More items to consider...