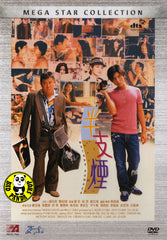 Region Coding: Region 3 (Locked)

Starring:
Nicholas Tse
Shu Qi
Eric Tsang
Kelly Chen
Stephen Fung
Sam Li
Cheung Tat Ming
Anthony Wong
Sandra Ng
Elaine Kam
Jo Koo
Chan Wai Man
Tony Ho
Terence Yin
Vincent Kok
Tung Wai
Riley Yip

Director:
Riley Yip

Audio Tracks: 
Dolby Digital 5.1, DTS Digital Surround

Languages: 
Cantonese, Mandarin

Subtitles:
English, Traditional Chinese, Simplified Chinese

Running Time: 
98 minutes

Distributor:
Media Asia / Mega Star (HK)

Release Date:
08 April 2013

Synopsis:
Killer Leopard, diagnosed as having Alzheimer's Disease, returns to Hong Kong with a half cigarette, to meet his beloved woman for the last time. On arrival, he encounters Smokey, a young street hustler, and he enlists Smokey's help to complete his quest. Meanwhile, Smokey's mother, a hooker, remembers the identity of his father: he was a policeman, Ironically, Smokey also falls for a beautiful lady cop who once arrested him.

More items to consider...