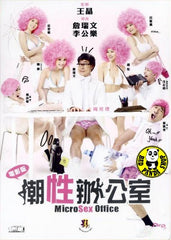 Region Coding: Region 3 (Locked)

Starring: 
Jim Chim
Harriet Yang
Tyson Chak
Jacqueline Chong
Yedda Chao
Soler
DaDa Chan
Koni Lui
Gill Mohinderpaul Singh
Z.O. (Chen Zhi Ming)

Director: 
Jim Chim
Lee Kung Lok
Wong Jing


Audio Tracks: 
Dolby Digital 5.1

Languages: 
Cantonese, Mandarin

Subtitles: 
English, Traditional Chinese, Simplified Chinese


Running Time: 
88 minutes

Distributor:
CN Entertainment Ltd.

Release Date:
04 Aug 2011

Synopsis:

Jim (Jim Chim), an old fashioned and calculating manager with his subordinates; Rachel (Koni Lui), an exhititionist who likes to show off her trendy underwear. Tarzan (Tyson Chak), a male worker whom will be excited by female screaming; and Heidi (Harriet yeung), who indulges in fantasizing about men all day long, are "imprisoned" in a boring office Monday to Friday, with nothing to do except indulging in sexual fantasies.

Suddenly, this small company has been sold, and the new CEO, Pinky (Yedda Chao), her assistants Da Da (Da Da), Spring (Jacquelin Ching) and Donald (Z.O.) are so sexy and charming that far exceed what they have fantasized. To secure their position in the new company, Jim Rachel, Tarzan and Heidi do their best to use 'Sex' as their weapon to overwhelm their superiors....
(comedy)
More items to consider...