Miss Conspirator (2012) (Region 3 DVD) (English Subtitled) Korean movie a.k.a. I'm A Killer
$15.99 USD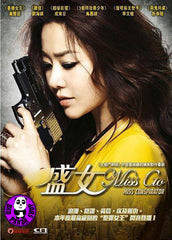 Region Coding: Region 3 (Locked)

Starring:
Ko Hyun Jung
Lee Moon Shik
Ko Chang Seok
Yu Hae Jin
Sung Dong Il
Park Shin Yang

Director:
Park Chul Kwan

Audio Tracks: 
Stereo

Language: 
Korean

Subtitles:
English, Traditional Chinese

Running Time: 
116 minutes

Distributor:
CN Entertainment Ltd. (HK)

Release Date:
4 April 2014

Synopsis:
An Innocent Bystander Gets Involved in the Middle of Crazy Drug Underworld.
Chun Suro has had a panic disorder ever since she lost her parents at a young age. Since then, Suro has relied on her roommate who now is about to leave her to study in Japan. As Suro is sending off her only friend, she comes into the eyes of a well-known but faceless, clever middleman of the drug underworld known as "Miss Go". Dressed as a nun, Miss Go persuades Suro into delivering a birthday cake packed with drugs to her business associate in Royal Hotel's room 618. An undercover cop assigned to catching Miss Go sees the birthday cake drug deal and chases aster Suro and Miss Go. Suro must try to overcome her panic disorder while being inadvertently sucked into a world of drugs, cons and police and she is forced to become a con artist to survive the whole mess beyond anyone's expectations.
More items to consider...