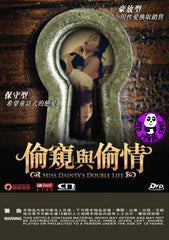 Region Coding: Region 3 (Locked)

Starring:
Kwak Hyeon Hwa
Ha Na Kyeong
Oh Seong Tae
Lee Geon II

Director:
Lee Soo Seong

Audio Tracks: 
Stereo

Language: 
Korean

Subtitles:
English, Traditional Chinese

Running Time: 
- minutes (TBA)

Distributor:
CN Entertainment Ltd. (HK)

Release Date:
31 July 2014

Synopsis:
Two women with different personalities have met!Ara (Han Na-kyeong) who works as a head of department at a people agency is an enthusiastic woman who meets secretly with her male clients just for the fun. On the other hand, Mi-yeon (Gwak Hyeon-hwa) hates the men who stare at her body so bluntly. One day she finds out someone is watching her secretly from the house across from her and she feels aroused, making her reveal even more...
More items to consider...