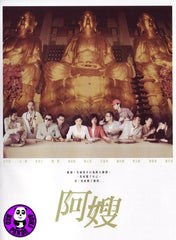 Region Coding: Region Free

Starring:
Karena Lam
Annie Liu
Simon Yam
Eric Tsang
Anthony Wong
Alex Fong Chung Sun
Yuen Wah
Tse Kwan Ho
Liu Ye
Liu Kai Chi

Director:
Wong Ching Po

Producer:
Lawrence Cheng


Audio Tracks:
Dolby Digital 5.1, DTS Digital Surround

Languages:
Cantonese, Mandarin

Subtitles:
English, Traditional Chinese, Simplified Chinese


Running Time:
90 minutes
Distributor:
Joy Sales (HK)

Release Date:
15 Sept 2005

Synopsis:
In the macho triad world where heroes are molded from blood, brawn and brains, what place is there for a defenseless girl? The only exception to the rule is if you earn your respect as 'Ah Sou' - the big boss' wife.
Ah Sou tells the extraordinary story of an innocent girl who becomes appointed successor to Hong Kong's ruling triad. This role becomes a double-edged sword for our young heroine, who is sucked into a maelstrom of vicious gang wars, hair-raising assassination attempts and ruthless power struggles and betrayals. Through numerous violent episodes and unexpected reversals, she discovers her own inner strength and re-writes the laws of the triad kingdom.

More items to consider...