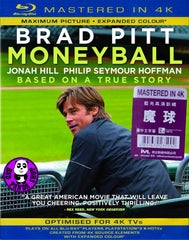 Region Coding: Region Free

Starring: 
Brad Pitt
Philip Seymour Hoffman
Robin Wright
Jonah Hill

Director:
Bennett Miller

Audio Tracks:
- (TBA)

Languages: 
English

Subtitles:
English, Traditional Chinese

Running Time:
133  minutes

Distributor:
Sony Pictures / Intercontinental Video Ltd. (IVL) HK

Release Date:
06 Aug 2013

Synopsis:
Oakland A's general manager Billy Beane (Brad Pitt) challenges the system and defies conventional wisdom when his is forced to rebuild his small-market team on a limited budget. Despite opposition from the old guard, the media, fans and their own field manager (Philip Seymour Hoffman), Beane - with the help of a young, number-crunching, Yale-educated economist (Jonah Hill) - develops a roster of misfits... and along the way, forever changes the way the game is played.
More items to consider...