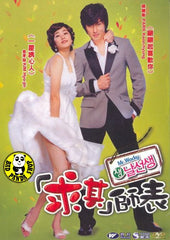 Region Coding:
Region Free

Starring: 
Kim Hyo Jin
Park Gun Hyung

Director: 

Kim Dong Wook

Audio Tracks: 
Dolby Digital 5.1

Languages: 
Korean

Subtitles: 
English, Traditional Chinese, Simplified Chinese

Running Time: 
96 minutes

Distributor:
Winson Entertainment Distribution Ltd.(HK)

Release Date:
22 Jan 2008

Synopsis:
In order to inherit grandfather's assets, Ju-ho is forced to become a high school teacher for about two years. At first, he does not have the enthusiasm and vigor when going to school. Also, he is half-hearted and sloppy when it comes to teaching his classes every day. He never prepares and hopes that he is able to avoid every trouble at school which makes his students feel absolutely bored and perplexed at the classroom. Subsequently, due to the indifference the school treating a student attacked by a gang and the emergence of Miss So-ju, Ju-ho starts to change his attitude towards teaching. He decides to pull himself together and grasp the real meaning of being a teacher.
More items to consider...