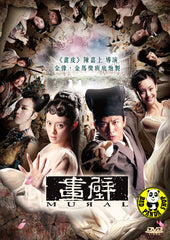 Region Coding: Region 3 (Locked)

Starring: 
Betty Sun
Deng Chao
Eric Tsang
Yan Ni
Collin Chou
Zheng Shuang
Andy On
Bao Bei Er
Liu Yan
Mo Xiao Qi

Director: 
Gordon Chan


Audio Tracks: 
Dolby Digital 2.0

Languages: 
Cantonese, Mandarin

Subtitles: 
English, Traditional Chinese, Simplified Chinese


Running Time: 
125 minutes

Distributor:


Intercontinental Video Limited (IVL) HK



Release Date:
16 Dec 2011

Synopsis:

A journey to sit for the imperial exam, scholar Zhu (Deng Chao) takes rest in an ancient temple and meets a mysterious monk Budong (Eric Tsang). Intrigued by a mural depicting a fantastical world with beautiful fairy maidens, Zhu finds himself transported into the world of the mural. It appears to be an ideal place for men where they can fulfill their dreams under the rule of the Fairy Queen (Yan Ni). However, the world is actually a trap where souls will be ultimately lost. Surrounded by a multitude of fairies, Zhu unexpectedly runs into Shayao (Sun Li) and other two fairies, resulted in complex love affairs and death battles......
More items to consider...