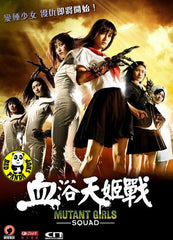 Region Coding: Region 3 (Locked)
Starring: 
Takenaka Naoto
Sugimoto Yumi
Asami Sakaguchi Tak
Kawai Chiharu
Tsuda Kanji
Itou Maiko
Shimazu Kentaro
Morita Suzuka

Director: 
Iguchi Noboru
Nishimura Yoshihiro
Audio Tracks: 
Dolby Digital 5.1, DTS Digital Surround

Languages: 
Japanese

Subtitles: 
English, Traditional Chinese

Running Time: 
90 minutes

Distributor:
CN Entertainment Ltd. (HK)

Release Date:
17 Nov 2011

Synopsis:
THE REVENGE OF THE MUTANT GIRLS WILL SOON BEGIN!
Rin is a seemingly normal Japanese high school girl, but on her sixteen birthday, everything in her life changes when government special forces break into her home. After witnessing her mother's face blown into bits and her father's severed head falling into her birthday cake, Rin's dormant mutant abilities are awakened; her arm transforms into a sharp, knife-encrusted claw, and a moment later, she finds herself standing in a pool of blood, surrounded by dead soldiers !
More items to consider...