My Annoying Brother 我的麻煩大佬 (2016) (Region 3 DVD) (English Subtitled) Korean movie aka Hyeong
$19.99 USD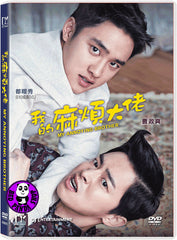 Region Coding:
Region 3 (Locked)

Starring:
Cho Jung Seok
Do Kyung Soo (D. O.)
Park Shin Hye
Kim Gang Hyun
Ji Dae Han
Lim Chul Hyung
Lee Do Yeon
Son San
Shim Hoon Ki
Jung Jae Jin

Director:
Kwon Soo Kyung

Audio Tracks: 
Dolby Digital 5.1

Language: 
Korean

Subtitles:
English, Traditional Chinese 繁體中文字幕

Running Time: 
- minutes (TBA)

Distributor: 
Deltamac (HK)

Release Date:
11 May 2017

Synopsis: 
The conman Du-sik (CHO Jung-seok) returns home on parole after serving 15 years in prison to take care of his younger brother, Du-young (DOH Kyung-soo), a professional judo player who encounters an accident during training?

哥哥斗植(曹政奭 飾)是個騙子慣犯,因為一次意外,被迫與國家柔道代表弟弟斗勇(都暻秀 飾)開始尷尬同居生活…


movie trailer (English & Chinese subtitled)
More items to consider...