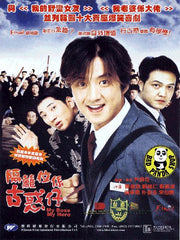 Region Coding:
Region 3 (Locked)

Starring: 
Lim Chang Jung
Kim Sang Joong
Jung Jun Ho

Director: 
Yoon Je Kyun


Audio Tracks: 
Dolby Digital 2.0

Languages: 
Korean, Cantonese

Subtitles: 
English, Traditional Chinese, Simplified Chinese

Running Time: 
98 minutes

Distributor:
Winson Entertainment Distribution Ltd. (HK)

Release Date:
10 Jan 2003

Synopsis:
Kye Doo-sik (Jeong Jun-Ho) is a gang vice-leader after dropping out from high school. But Doo-sik's stunted education makes him the laughing stock of the gang, and he's commanded to return to his studies by his boss. Disguised as a 19-year-old, Doo-sik has a hard time school: he's whipped, blackmailed and bullied by both teachers and students ten years his junior. But before long, Doo-sik begins to notice violent corruption in the school. The school foundation director is funded by a gang organization, and demands that teachers give rich students good marks so that they can get into top colleges. The loathsome director sexually harasses female teachers and defends a student's mother who beat a teacher. When a student Doo-sik knows is beaten to a pulp then expelled, Doo-sik rallies his henchman and fellow students and sets out for revenge.
More items to consider...