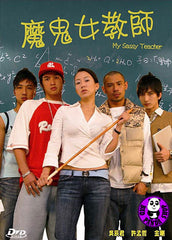 Region Coding: Region Free

Starring: 
Annie Wu
Hsu Meng Jie
Jin Gang
Josephine Hsu An An
Marc Chen Cheng Xiang
Jack Kao Kuo Hsin
Wu Wan Chun
Jiu Kong
Bai Yun

Director: 
Zhang Zhe Shu


Audio Tracks: 
Dolby Digital

Languages: 
Cantonese, Mandarin

Subtitles: 
English, Traditional Chinese


Running Time: 
- minutes (TBA)

Distributor:
CN Entertainment Ltd. (HK)

Release Date:
20 Sept 2007

Synopsis:

It's time for some back-to-school hyjinks with the Taiwanese youth comedy My Sassy Teacher. Annie Wu (Love au Zen) takes on the spunky title role, opposite a cast of rowdy young artists including Jason Hsu from 5566, comedic television personality Jin Gang, and actress Hsu An An. Annie Wu stars as tough-as-nails mob boss daughter Yang Hai Er, whose family background makes most people weak in the knees. The students of Year 3 Class 8 are pretty notorious themselves, the proud source of all trouble at their high school. No homeroom teacher has lasted more than three days with these problem teenagers - that is until teacher Yang saunters into the classroom. The students of Year 3 Class 8 have finally met their match.
More items to consider...