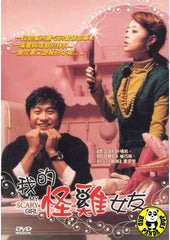 Region Coding: Region 3 (Locked)
Starring: 
Park Yong Woo
Choi Kang Hee
Jo Eun Ji
Jeong Kyung Ho
Lee Hee Do
Jo Yeong Gyoo

Director: 

Son Jae Gon
Audio Tracks: 
Hi-Fi Stereo

Languages: 
Korean

Subtitles: 
English, Traditional Chinese

Running Time: 
112 minutes

Distributor:
Asia Video Publishing (AVP)

Release Date:
27 Dec 2006

Synopsis:
Dae-woo, a college lecturer, is the most gentle and warm-hearted man on earth. But the "no man is perfect on earth" rule applies here with no exception. As he turns over 30, seeing most of his friends having girlfriends, he find himself lonely. At this very moment, here Mina comes out of nowhere! She looks intelligent, beautiful and so hot! His long running "no girl system" is just gone. But as he's going out with her more, he feels something so fishy with her one way or another. She says her hobby is reading classics but she doesn't even know "Crime and Punishment" by Dostoeysky? And the more he comes to get involved in her personal life, the more the suspicious he is of what she really is! One thing is that her roommate is too funky an freaky. And secondly, a man who self acclaims that he is an ex of Mina shows up and he is so whacky. The more he questions, the more it bugs him as he is really deep in love with her.
More items to consider...