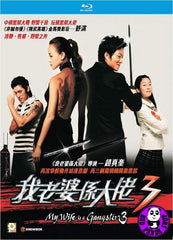 Region Coding: Region Free

Starring: 
Shu Qi
Lee Beum-su
Chu Min-Su
Ti Lung

Director:
Jin Gyu Cho

Audio Tracks: 
Dolby TrueHD 5.1
Dolby Digital 5.1

Languages: 
Korean/Cantonese



Subtitles:


English, Traditional Chinese

Running Time: 
115 minutes

Distributor:


Panorama HK Distributions



Release Date:
14 Feb 2011

Synopsis:
Aryoung is sent away from her homeland of Hong Kong by her father . Her father is a powerful gang leader that is in the midst of a major power struggle. He is worried about the safety of Aryoung and thus gives her the choice to stay in another country until things settle down in Hong Kong. Aryoung picks South Korea, mainly because her mother is Korean and now lives somewhere in that country.

When Aryoung arrives at the Incheon airport, three Korean gang members are there waiting for her. The gangsters were assigned to protect Aryoung by their Korean boss. Unfortunately the three unwitting gangsters were not informed of Aryoung's background, nor are they aware that the person the would have take care of is a woman. Aryoung can't speak Korean and the gangsters can't speak Chinese. Thus an uncomfortable acquaintance period is endured until the gangsters hire a Chinese translator. The gangsters soon learn that Aryoung has quite a few more surprises behind her pretty appearance.
More items to consider...