Nagasaki: Memories of My Son 給兒子的安魂曲 (2015) (Region 3 DVD) (English Subtitled) Japanese movie aka Living with My Mother / Haha to Kuraseba
$24.99 USD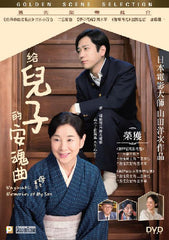 Region Coding:
Region 3 (Locked)

Starring:
Sayuri Yoshinaga
Kazunari Ninomiya
Haru Kuroki
Tadanobu Asano
Kenichi Kato
Yuriko Hirooka
Miru Honda
Nenji Kobayashi
Kazunaga Tsuji

Director:
Yoji Yamada

Audio Tracks: 
Dolby Digital EX

Language: 
Japanese

Subtitles:
English, Traditional Chinese 繁體中文字幕

Running Time: 
- minutes (TBA)

Distributor: 
Panorama Edko Films Ltd. (HK)

Release Date:
21 April 2017

Synopsis:
Nobuko (Sayuri Yoshinaga) works in Nagasaki, Japan as a midwife. Her son died 3 years earlier from the atomic bomb. On August 9, 1948, her son appears in front of her again. Since that time, Koji (Kazunari Ninomiya) appears in front of her and they reminiscence about pleasant times. These happy, but bizarre moments seem eternal.

「因為你還不肯死心,害我不能不出現。」一九四五年,在長崎投下的一枚原子彈,奪走浩二 (二宮和也 飾)生命,遺下摰愛戀人町子(黑木華 飾)與無法接受事實的母親伸子(吉永小百合 飾)相依為命,互相扶持。三年後,伸子終於在兒子墓前決定放下,並勸町子追求幸福,開展新生活 。然而此時,兒子的靈魂卻突然歸來,與她閒話家常,展開母子一起生活的奇妙時光……但是,浩二的出現,能否讓兩人真正走出傷痛,活在 當下,還是命運預設的另一次考驗?


movie trailer (English & Chinese subtitled)

More items to consider...