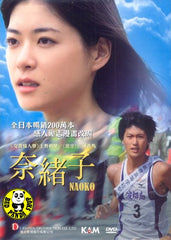 Region Coding: Region 3 (Locked)
Starring:
Ueno Juri
Shofukutei Tsurubei
Miura Haruma
Okunuki Kaoru
Mitsuishi Ken
Shimada Kyusaku
Yamashita Yorie
Satsukawa Aimi

Director:
Kogai Tomoyuki
Audio Tracks:
Dolby Digital 2.0, Dolby Digital

Languages:
Japanese
Subtitles:
English, Traditional Chinese, Simplified Chinese

Running Time:
120 minutes

Distributor:
Kam & Ronson Enterprises Co., Ltd. (HK)

Release Date:
27 May 2010

Synopsis:
Ueno Juri, the star of Nodame no Cantabile together with one of the fastest rising actor - Miura Haruma, brought the inspiring sports manga Naoko onto the big screen.
To save Naoko from drowning when they were on their boating trip in Nagasaki, Yuuichi's father lost his life. For this, Yuuichi has never forgiven Naoko.
Years later the two young people meet again in Tokyo, Yuuichi has already become a top athlete in his age group and acquired the name "The gale on the Japanese seas". When Naoko approached the boy, he lied to her that he has forgiven her.
But when Naoko volunteered to manage the rest stops during a marathon, Yuuichi would rather get a heat stroke than take the bottle from her, by this, the girl knew that she has never been forgiven.
Seeing the tension between the two, the marathon coach decided to step in and ease their relationship. He recruited Naoko into the marathon team as a manager and forces the two to work together. Will the two finally reach some sort of understanding, or will they let their grudge get in the way of their futures?
More items to consider...