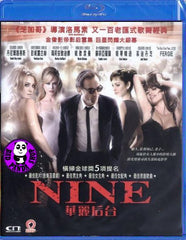 Region Coding: Region A (Locked)

Starring: 
Daniel Day-Lewis
Penelope Cruz
Nicole Kidman
Kate Hudson
Marion Cotillard
Sophia Loren

Director:


Rob Marshall



Audio Tracks:
Dolby DTS-HD Master Audio 7.1
LPCM 7.1
Dolby Digital 5.1

Languages: 
English

Subtitles:


English, Traditional Chinese

Running Time:
119 minutes

Distributor:
CN Entertainment

Release Date:
6 May 2010

Synopsis:
From the award-winning team behind the Oscar winning films Chicago and Memoirs of a Geisha comes a colorful new musical, Nine. Directed by Academy Award nominee Rob Marshall, Nine tells the story of Guido Contini, a world-class filmmaker who is savoring his most recent (and greatest) success. Unfortunately, Guido is also facing his fortieth birthday and a midlife crisis of epic proportions, blocking his creative imprlses and entangling him in a web of romantic difficulties. As Contini struggles to overcome this crippling case of writer's block, his mind casts back to all the women in his life as beautifully vivid memories become interwoven with reality, in what is sure to be an award-winning smash-hit.
More items to consider...