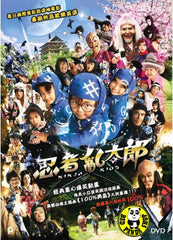 Region Coding: Region 3 (Locked)
Starring: 
Takenaka Naoto
Terajima Susumu
Tanihara Shosuke
Nakamura Shido
Hira Mikijiro
Rei Dan
Kato Seishiro
Miyura Takahiro

Director: 
Miike Takashi


Audio Tracks: 
Dolby Digital 5.1

Languages: 
Japanese

Subtitles: 
English, Traditional Chinese

Running Time: 
100 minutes

Distributor:
Panorama (HK)

Release Date:
31 May 2012

Synopsis:
Based on the popular newspaper comic and famous animation series "Ninja Rantaro" about the adventures (and misadventures!) of the "Ninja Eggs" (young Ninja pupils) gang ─ Rantaro, Kirimaru, and Shinbei in the Ninja Academy, this live action feature will bring both the fans of Ninja Rantaro and new audiences to meet with these lovable, laughable and recognisable ninjas in real life!
Rantaro is the son of a low class Ninja Family. In the hope that their son will become an elite Ninja, his parents send Rantaro to the Ninja Academy. Rantaro befriends Shinbei there, a chubby and sweet kid who is the son of a wealthy merchant, and Kirimaru, a wisecracking, streetwise war orphan.
At Ninja Academy, school is fun with its eccentric teachers and pretty girl Ninjas. One day, an assassin attacks one of Rantaro's schoolmates and his family. The name of the boy is Takamaru SAITO, 4th Grader, and he's the son of Yukitaka SAITO who is a charismatic hairdresser. It's revealed that the family of Saito has a secret past as Fujitive Ninjas, and the assassin is sent by the Usutake Ninja Clan that they have betrayed!
It is now up to Rantaro and his friends to save their schoolmate!Though falling far short of being full-fledged qualified Ninjas, the Ninja Eggs have each other! Bursting with courage and friendship, their big adventure begins!
More items to consider...