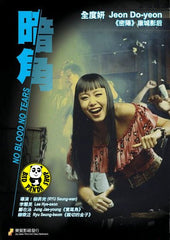 Region Coding: Region Free
Starring:
Jeon Do Yeon
Jung Jae Young
Lee Hye Young

Director:

Ryoo Seung Wan
Audio Tracks:
Dolby Digital 5.1

Languages:
Korean

Subtitles:
English, Traditional Chinese, Simplified Chinese

Running Time:
117 minutes

Distributor:
Joy Sales (HK)

Release Date:
24 Oct 2008

Synopsis:
Gyung-sun, used to be a professional safecracker, now drives a cab on the night shift and meets every kind of scum there is. One day she meets Soo-jin, who is the spitting image of herself back when she had it made. Soo-jin lives with her vicious boyfriend, Bulldog, who never leaves her alone and beats her. Bulldog operates a god fighting ring owned by a ruthless loan shark called KGB. Soo-jin and Gyung-sun decidied to do something about their dire circumstances by taking the money from Bulldog and running away...
More items to consider...