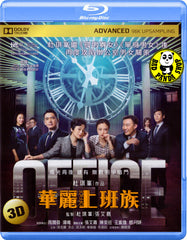 Region Coding: Region A (Locked)

Starring:
Chow Yun Fat 周潤發
Sylvia Chang 張艾嘉
Tang Wei 湯唯
Lang Yueting 郎月婷
Eason Chan 陳奕迅
Eddie Cheung 張兆輝
Stephanie Che 車婉婉
Timmy Hung 洪天明
Wallace Chung

Director:
Johnnie To 杜琪峯

Producers:
Johnnie To 杜琪峯
Sylvia Chang 張艾嘉

Audio Tracks: 
Dolby TrueHD Advanced 96k upsampling 7.1 Surround, Dolby TrueHD 5.1 Surround

Languages: 
Cantonese 粵語

Subtitles:
English, Traditional Chinese 繁體中文字幕

Running Time: 
119 minutes

Distributor: 
Edko Films Ltd. (HK)

Release Date:
18 Dec 2015

Synopsis:
This film delivers a biting takedown of capitalism, detailing the financial crisis following the Lehman Brothers collapse and what one company has to do to fight to stay alive -- all in a lavishly detailed, wholly original musical production.

This Blu-ray set contains both the 3D version and the 2D version. To play the 3D version, you need a 3D Blu-ray player and a 3D compatible display that supports 3D glasses (glasses are not included for this item).


movie trailer (English subtitled)

More items to consider...