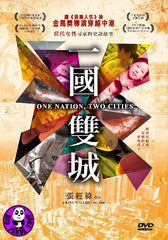 Region Coding: Region 3 (Locked)

Director:
Cheung King Wai

Audio Tracks: 
Dolby Digital

Picture Format:
PAL

Language: 
Original Soundtrack (mainly Chinese)

Subtitles:
English, Traditional Chinese

Running Time: 
70 minutes

Production:
Beautiful Productions Ltd.

Distributor:
Kam & Ronson Enterprise Co., Ltd. (HK)

Release Date:
29 March 2016

Synopsis:
One Nation, Two Cities is about a Chinese woman who spends most of her life fighting for the right of abode in Hong Kong so she can unite her family. She moves from village to city, experiencing the dramatic changes that follow economic reform. There is no doubt that the country is richer, but at the same time, the "family" she longed for becomes dysfunctional. Divorce and remarriage are not uncommon in today's China, but she goes even further. She decides to redefine and recreate the family in her own way. Seemingly, everything is achieved by her free will; however, the fact is that politics haunts her at all times, and she can never escape its shadow.
More items to consider...