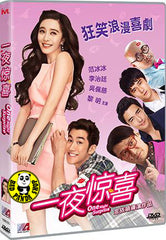 Region Coding: Region Free

Starring:
Fan Bing Bing (Fan BingBing) 范冰冰
Aarif Lee 李治廷
Jiang Jinfu 蔣勁夫
Daniel Henney
Pace Wu 吳佩慈
Ni Hongjie 倪虹洁
Xu Zheng
Leon Lai

Director:
Jin Yimeng 金依萌

Audio Tracks: 
DTS 5.1, Dolby 5.1

Languages: 
Mandarin

Subtitles:
English, Traditional Chinese, Simplified Chinese

Running Time: 
- minutes (TBA)

Distributor:
Media Asia / Intercontinental Video Ltd. (IVL)

Release Date:
26 Nov 2013

Synopsis:
Michelle is an aspiring executive at a foreign advertising agency in China. She works extra hard every day and dreams about making Creative Supervisor. After a wild party for her 32nd birthday party, at which she got drunk and blacked out, she finds herself pregnant with absolutely no idea of who the father is. While trying to identify the father of her baby, Michelle finds herself caught between several attractive men: the cheerful and considerate Tony, the dreamy and sophisticated Bill, the youthful and athletic Jeb, and the extremely rich businessman Tiger Lu. The search quickly unravels into a stressful journey taking her to false hopes, heartbreaks, and above all, self-discovery...


More items to consider...