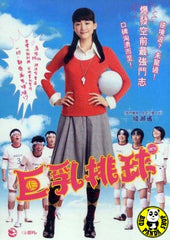 Region Coding: Region 3 (Locked)

Starring: 
Ayase Haruka
Nakamura Toru
Aoki Munetaka

Director: 
Hasumi Eichiro

Audio Tracks: 
Dolby Digital 5.1

Languages: 
Japanese

Subtitles: 
English, Traditional Chinese

Running Time: 
- minutes (TBA)

Distributor:
Vicol Entertainment Ltd. (HK)

Release Date:
26 March 2015

Synopsis:
"If we win the competition, our teacher will show us her boobs ?"
1979, Kitakyushu. Shortly after accepting her new junior high school teaching position, Mikako, who has become advisor to the inept boys of the volleyball team, makes an extraordinary promise to show them her boobs (Oppai) if they win a game . Mikako has mixed feelings about the boob promise, but the members wholeheartedly want to see her boobs and practice with feverish intensity, gaining strength as if they had become different people. What fate befalls Mikako in the face of this conflict ?!
More items to consider...