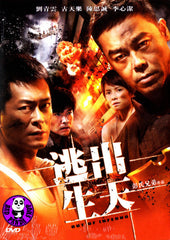 This DVD contains the 2D version only

Region Coding: Region 3 (Locked)

Starring:
Lau Ching Wan
Louis Koo
Angelica Lee
Chen Kun
Wang Xueqi
Wang Bao Qiang
Natalie Tong
Gillian Chung
Cheung Siu Fai

Director:
Pang Brothers

Audio Tracks: 
Dolby Digital 5.1

Languages: 
Cantonese, Mandarin

Subtitles:
English, Traditional Chinese, Simplified Chinese

Running Time: 
107 minutes

Distributor:
Universe (HK)

Release Date:
19 Dec 2013

Synopsis:
On the hottest day in 50 years, in the density packed urban centre, a serious fire incident happened to a busy commercial tower because of an unexpected phenomenon known as "flashover". As the fire burned their conscience to the ground, those who lacked passion in their life were about to meet a gaggle of firefighters with an indestructible enthusiasm to save lives.
More items to consider...