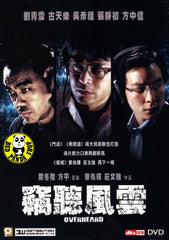 Region Coding: Region Free

Starring:
Lau Ching Wan
Daniel Wu
Louis Koo
Michael Wong
Alex Fong Chung Sun
Zhang Jing Chu
William Chan
Waise Lee
Yeung Ling
Lam Ka Wah
Felix Lok
Fong Ping

Directors:
Alan Mak
Felix Cong

Producers: 
Derek Yee
Fong Ping

Audio Tracks: 
Dolby Digital 5.1, DTS Extended Surround, DTS-ES

Languages: 
Cantonese, Mandarin

Subtitles: 
English, Traditional Chinese

Running Time: 
100 minutes

Distributor:
Panorama (HK)

Release Date:
05 Oct 2009

Synopsis:
The interception team at the Criminal Intelligence Bureau is sent in. Led by Inspector Leung Chun-Yi(by Lau Ching-wan), the team has veteran cop Yeung Jen(by Louis Koo) and the young rookie Lam Yat-Cheung(by Daniel Wu), They infiltrate Feng Hua International to install interception devices and start to monitor the company's phone traffic. Three cops become increasingly thrilled by the secrets they heard while conducting surveillance on a listed company, without knowing the blood and danger awaiting them.
More items to consider...