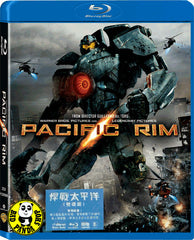 Region Coding: Region Free

Starring:
Charlie Hunnam
Idris Elba
Rinko Kikuchi
Charlie Day
Ron Perlman
Robert Kazinsky

Director:
Guillermo Deltoro

Audio Tracks: 
DTS-HD Master Audio 7.1, DTS-HD Master Audio 5.1, Dolby Digital 5.1

Languages: 
English, Mandarin, Spanish, French, Italian, Thai

Subtitles:
English, Traditional Chinese, Korean, French, Indonesian, Italian, Spanish, Thai

Number of Discs:
2 Blu-Rays

Running Time: 
131 minutes

Distributor:
Warner / Manta Lab

Release Date:
11 Nov 2013

Synopsis:
When legions of monstrous alien creatures, known as Kaiju, started rising from the sea, a deadly war began. To combat them, humans devised massive robots called Jaegers as weapons. Controlled simultaneously by two pilots, even the Jaegers proved nearly defenseless against the Kaiju. Now on the verge of defeat, mankind must turn to a washedup former pilot and an untested trainee teamed in a seemingly obsolete Jaeger. These unlikely heroes are the last hope against a mounting apocalypse.
More items to consider...