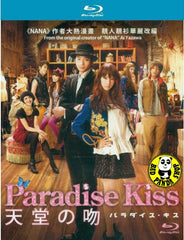 Region Coding:
Region A (Locked)


Starring: 
Kitagawa Keiko
Mukai Osamu
Igarashi Shunji
Kato Natsuki
Takahashi Hitomi
Ogi Shigemitsu
Hata Michiko
Hirayama Hiroyuk
Audio Tracks: 
Dolby Digital 5.1

Languages: 
Japanese

Subtitles: 
English, Traditional Chinese, Simplified Chinese

Running Time: 
114 minutes

Distributor:
Kam & Ronson Enterprises Co., Ltd.

Release Date:
13 Dec 2011

Synopsis:
Yukari (Keiko Kitagawa) lives a boring life filled with study until she is scouted by a student group that owns a fashion brand Paradise Kiss. They ask her to be the model for their final runway project. At first Yukari dismisses the group leader George (Osamu Mukai), but she cannot resist her strong attraction to him as she is impressed by his passion for fashion design. Receiving th support from George and other members, what would she discover as she steps into the spotlight?
More items to consider...