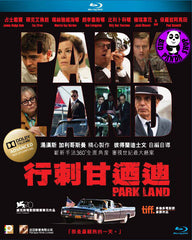 Region Coding: Region A (Locked)

Starring:
Zac Efron
James Badge Dale
Paul Giamatti
Billy Bob Thornton
Jacki Weaver
Jeremy Strong
Marcia Gay Harden

Director:
Peter Landesman

Audio Tracks: 
Dolby TrueHD Advanced 96K Upsampling, Digital Digital 5.1

Language: 
English

Subtitles:
English, Traditional Chinese, Simplified Chinese

Running Time: 
- minutes (TBA)

Distributor:
Panorama (HK)

Release Date:
7 March 2014

Synopsis:
PARKLAND recounts the chaotic events that occurred in Dallas, Texas on November 22, 1963, the day President John F. Kennedy was assassinated. Written and directed by Peter Landesman and produced by Playtone partners Tom Hanks and Gary Goetzman, Bill Paxton and Exclusive Media's Nigel Sinclair and Matt Jackson, PARKLAND is the ferocious, heart-stopping and powerful true story never told of the people behind the scenes of one of the most scrutinized events in history.


More items to consider...