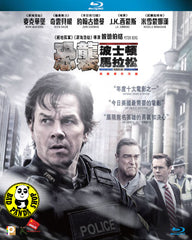 Region Coding: Region A (Locked)

Starring:
Mark Wahlberg
J.K. Simmons
John Goodman
Michelle Monaghan
Kevin Bacon
Jimmy O. Yang

Director:
Peter Berg

Audio Tracks: 
Dolby TrueHD Advanced 96k upsampling, Dolby Digital EX

Language: 
English

Subtitles:
English, Traditional Chinese 繁體中文字幕, Simplified Chinese 簡體中文字幕

Running Time: 
- minutes (TBA)

Distributor: 
Panorama (HK)

Release Date:
19 May 2017

Synopsis: 
An account of the Boston Marathon bombing, PATRIOTS DAY is the powerful story of a community's courage in the face of terror. In the aftermath of an unspeakable attack, Police Sergeant Tommy Saunders (Mark Wahlberg) joins courageous survivors, first responders and investigators in a race against the clock to hunt down the bombers before they strike again. Weaving together the stories of Special Agent Richard DesLauriers (Kevin Bacon), Police Commissioner Ed Davis (John Goodman), Sergeant Jeffrey Pugliese (J.K. Simmons) and nurse Carol Saunders (Michelle Monaghan) this visceral and unflinching chronicle captures the suspense of one of the most sophisticated manhunts in law enforcement history and celebrates the strength of the people of Boston.

創辦於1987年的波士頓馬拉松是世界上歷史最悠久的馬拉松盛事,2013年的波士頓馬拉松卻成為恐怖襲擊的對象,是繼911襲擊後美國傷亡最慘烈的恐怖襲擊事件!爆炸案發生後,波士頓警局警長湯美桑德斯(麥克華堡 飾)奉命在期限內追查主謀,他與勇敢的倖存者、自願者和英明的調查人員合力追捕恐怖分子,展開美國史上最大規模的搜捕行動。歷經重重考驗,最後終 於將嫌犯繩之以法,正義得以伸張!


movie trailer (Chinese subtitled)
More items to consider...