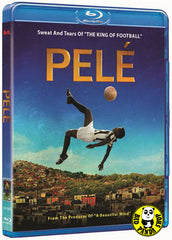 Region Coding: Region A (Locked)

Starring:
Seu Jorge
Mariana Nunes
Diego Boneta
Colm Meaney
Rodrigo Santoro
Vincent D'Onofrio

Director:
Jeff Zimbalist
Michael Zimbalist

Audio Tracks: 
Dolby TrueHD 5.1, DTS-HD MA 5.1

Languages: 
English

Subtitles:
English, Traditional Chinese 繁體中文字幕, Simplified Chinese 簡體中文字幕

Running Time: 
- minutes (TBA)

Distributor: 
Intercontinental Video Ltd. (IVL)

Release Date:
9 Dec 2016

Synopsis: 
Pelé. A name known around the world, a sports legend who changed soccer forever, and a national hero who carried the hopes and dreams of a country on his back. But before he was an icon, he was a kid from the slums of São Paulo, Brazil, so poor that he couldn't afford a real soccer ball. Charting his meteoric rise-from scrubbing floors to support his family to honing his electrifying playing style on the streets to leading Brazil's national team to its first World Cup victory at the age of 17-Pelé vividly brings to life the greatest sports story of the 20th century. With Vincent D'Onofrio and Brazilian musical star Seu Jorge.

《有你終生美麗》金像監製白賴仁基沙,將無名小子變身一代球王的勵志傳奇,感人再現幕前!生長於巴西貧民區的比利,憑著別創一格的出神入化球技,配以驚人鬥志闖過無數難關, 16 歲便成為國際賽中最年輕的入球球員, 17 歲更在世界盃總決賽貢獻兩球,與隊友合力擊敗瑞典首奪雷米金盃,為國家及自己寫下輝煌神話第一頁!


movie trailer (Chinese subtitled)

More items to consider...