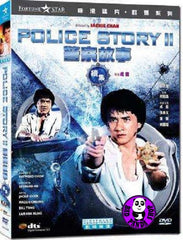 Region Coding: Region 3 (Locked)

Starring:
Jackie Chan 成龍
Maggie Cheung 張曼玉
Bill Tung 董驃

Director:
Jackie Chan 成龍

Audio Tracks: 
DTS Digital Surround 5.1
Dolby Digital 5.1

Languages: 
Cantonese, Mandarin

Subtitles:
English, Traditional Chinese, Simplified Chinese

Running Time: 
121 minutes

Distributor:
Kam & Ronson Enterprises Co., Ltd. (HK)

Release Date:
26 July 2012

Synopsis:
Despite his one-man effort in nabbing the bad guys in the first film, all Ka-Kui earns is a humiliating demotion to traffic duty, not to mention constant harassment from the vengeful mobster he puts out of business. He decides to take a vacation with his girlfriend May (Maggie Cheung). However, when terrorists threaten Hong Kong, he has to abort his vacation plans and track down the suspects. During the process, May becomes their kidnap target. Ka-Kui confronts his adversaries to save his girl - and the day.
More items to consider...