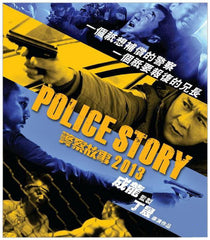 Region Coding: Region A (Locked)

Starring:
Jackie Chan 成龍
Liu Ye 劉燁
Jing Tian 景甜
Yin Tao 殷桃
Liu Yiwei 劉儀偉
Wu Yue 吳樾

Director:
Ding Sheng 丁晟

Audio Tracks: 
Dolby Digital Surround 5.1

Language: 
Cantonese, Mandarin

Subtitles:
English, Traditional Chinese, Simplified Chinese

Running Time: 
111 minutes

Distributor:
Universe (HK)

Release Date:
16 April 2014

Synopsis:
The Police Story film series comprises five Hong Kong crime-action films, directed by Jackie Chan, Stanley Tong and Benny Chan, produced by Raymond Chow, Leonard Ho, Jackie Chan, Barbie Tung, Willie Chan and Solon So. The first film Police Story was released on 14 December 1985. After the film's success, four sequels were made.

Chan began work on the film after a disappointing experience working with another director on The Protector, which was intended to be his entry into the American film market. The Police Story film series is considered by fans to be one of Chan's best films. It was a massive hit in Asia. According to his book, Chan considers the film his best, in terms of action.


movie trailer (English subtitle)

More items to consider...