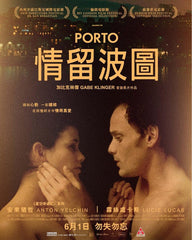 Region Coding: Region A (Locked)

Starring:
Anton Yelchin
Lucie Lucas
Paulo Calatré
Françoise Lebrun
Florie Auclerc-Vialens
Aude Pepin

Director:
Gabe Klinger

Audio Tracks: 
Dolby TrueHD Advanced 96k upsampling, Dolby Digital EX

Languages: 
Original Soundtrack (mainly in English, part-of Portuguese & French)

Subtitles:
English, Traditional Chinese 繁體中文字幕

Running Time: 
- minutes (TBA)

Distributor: 
Panorama (HK)

Release Date:
24 Nov 2017

Synopsis: 
Jake (Yelchin) and Mati (Lucas) are two outsiders in the Portuguese city of Porto who once experienced a brief but intimate connection. A mystery remains about the moments they shared, and in searching through alternately joyous and painful memories, they relive a surprising encounter in which time stopped for them for just one night.

積克(安東猶哲 飾)和瑪蒂(露絲盧卡斯 飾),兩個不屬於波圖的異鄉人在這小城相遇。頃刻的心動,一夜的纏綿,過後只剩下如夢的回憶。他,記得自己遇見命中註定的刻骨愛情;而她,憶起的是擺脫枷鎖的放蕩激情。記憶的影像於眼前迴轉,在回憶的碎片中,尋找和重組他和她的故事。愛情似有還無,情留情逝,原在一瞬之間; 也許留住心動的片刻,便是永恆。



movie trailer (Chinese subtitled)
More items to consider...