Princess Mononoke 幽靈公主 (1997) (Region A Blu-ray) (English Subtitled) Japanese movie a.k.a. Mononoke-hime
$39.99 USD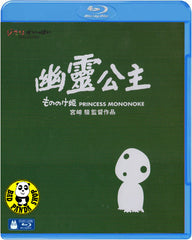 Region Coding: Region A (Locked)

Starring:
Animation

Director:
Hayao Miyazaki

Producer:
Toshio Suzuki

Audio Tracks: 
DTS-HD Master Audio 5.1, LPCM 2.0, Dolby 2.0

Language: 
Japanese, Cantonese

Subtitles:
English, Traditional Chinese, Japanese

Running Time: 
133 minutes

Distributor:
Intercontinental Video Ltd. (IVL) HK

Release Date:
11 March 2014

Synopsis:
Inflicted with a deadly curse, a young warrior named Ashitaka sets out to the forests of the west in search of the cure that will save his life. Once there, he becomes inextricably entangled in a bitter battle that matches Lady Eboshi and a proud clan of humans against the forest's animal gods... who are led by the brave Princess Mononoke, a young woman raised by wolves!
More items to consider...