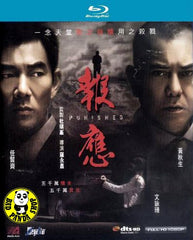 Region Coding: Region A (Locked)
Starring: 

Richie Jen 任賢齊
Anthony Wong 黃秋生
Janice Man 文詠珊
Candy Lo 盧巧音
Jun Kung
Maggie Cheung Ho Yee
Cho Charlie
Wong Yat Yat
Lin Li

Director: 
Law Wing Cheong 羅永昌


Producer: 
Johnnie To 杜琪峯
Audio Tracks: 
DTS-HD Master Audio 7.1, Dolby Digital 5.1

Languages: 
Cantonese, Mandarin

Subtitles: 
English, Traditional Chinese, Simplified Chinese

Running Time: 
94 minutes
Distributor:
Mega Star (HK)

Release Date:
18 Aug 2011

Synopsis:
When a tycoon's daughter is found dead after being rescued from abduction, he appoints his ex-bodyguard to avenge her death by not only hunting down and exterminating everyone responsible for the abduction but also videotaping he process of each "execution". Instead of feling liberated, the tycoon becomes more perturbed on watching the tapes, lest one day he shall get retribution himself for all the killings.

In the end, the ex-bodyguard manages to track down the mastermind behind the abduction, who turns out to be the female personal assistant of the tycoon's daughter. The tycoon determines to carry out the final execution himself, only to discover she is the mother of a 2-year-old girl. Will he pull the trigger and make an orphan out of this innocent soul? That is the question.
More items to consider...