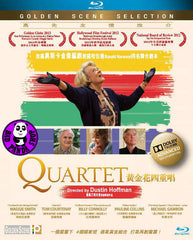 Region Coding: Region A (Locked)

Starring:
Maggie Smith
Tom Courtenay
Pauline Collins
Billy Connolly
Michael Gambon
Andrew Sachs

Director:
Dustin Hoffman

Audio Tracks: 
Dolby TrueHD Advanced 96k Upsampling, Dolby Digital EX

Languages: 
English

Subtitles:
English, Traditional Chinese, Simplified Chinese

Running Time: 
98 minutes

Distributor:
Panorama (HK)

Release Date:
09 Aug 2013

Synopsis:
Beecham House is abuzz. The rumor circling the halls is that the home for retired musicians is soon to play host to a new resident. Word is, it's a star. For Reginald Paget (Tom Courtenay), Wilfred Bond (Billy Connolly) and Cecily Robson (Pauline Collins) this sort of talk is par for the course at the gossipy home. But they're in for a special shock when the new arrival turns out to be none other than their former singing partner, Jean Horton (Maggie Smith). Her subsequent career as a star soloist, and the ego that accompanied it, split up their long friendship and ended her marriage to Reggie, who takes the news of her arrival particularly hard. Can the passage of time heal old wounds? And will the famous quartet be able to patch up their differences in time for Beecham House's gala concert?
More items to consider...