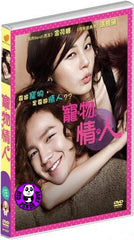 Region Coding:
Region 3 (Locked)

Starring: 
Kim Ha Nuel
Jang Keun Suk

Director: 

Park Heon-soo
Audio Tracks: 
Dolby Digital 2.0

Languages: 
Korean

Subtitles: 
English, Traditional Chinese

Running Time: 
110 minutes
Distributor:
Asia Video Publishing (AVP)

Release Date:
14 Sep 2012

Synopsis:
Eun-Yi works as an editor for a fashion magazine. She keeps failing in relationships with men, and doesn't get along with her colleagues. In-Ho was a promising ballet dancer. Two years ago he lifted a female dancer, but dropped her on accident. Because of this accident the woman was unable to dance any further and, now, In-Ho won't dance with women anymore. In-Ho now hopes to become a musical choreographer. Unfortunately for In-Ho, he doesn't have a place to stay. He goes to a bar where his friend Eun-Soo works. Later that night, Eun-Soo takes In-Ho over to his older sister's house…
More items to consider...