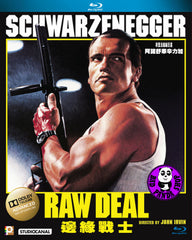 Region Coding: Region A (Locked)

Starring:
Arnold Schwarzenegger
Kathryn Harrold
Darren McGavin
Sam Wanamaker
Paul Shenar
Steven Hill
Joe Regalbuto
Robert Davi
Ed Lauter

Director:
John Irvin

Audio Tracks: 
Dolby Digital 5.1

Languages: 
English

Subtitles:
English, Traditional Chinese, Simplified Chinese

Running Time: 
106 minutes

Distributor:
Panorama (HK)

Release Date:
05 April 2013

Synopsis:
Arnold Schwarzenegger is Mark Kaminski, a former FBI agent forced to resign from the Bureau due to excessive violence. Now, he's a small town sheriff who is given a mission from his friend, FBI Chief Harry Shannon, to get Petrovita, the powerful and ruthless head of organized crime in Chicago. If successful, Kaminski will be immediately reinstated to the FBI for his heroic actions. Kaminski eagerly accepts the challenge and is prepared to infiltrate and tear apart the Petrovita machine without the consent, knowledge, or protection of any law enforcement agency. Using his own brand of justice he begins an action packed journey into the murderous world of the mob and will stop at nothing until he has successfully completed his mission.

More items to consider...