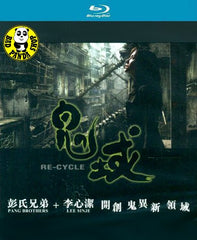 Region Coding: Region A (Locked)

Starring: 
Angelica Lee 李心潔
Lawrence Chou 周俊偉
Lau Siu Ming 劉兆銘
Rain Li 李彩樺

Directors: 

Danny Pang

Oxide Pang
(Pang Brothers) 彭氏兄弟


Audio Tracks: 
DTS-HD Master Audio 7.1, Dolby Digital 5.1

Languages: 
Cantonese, Mandarin
Subtitles: 
English, Traditional Chinese, Simplified Chinese

Running Time: 
109 minutes
Distributor:
Universe Laser (HK)

Release Date:
04 Aug 2011

Synopsis:
The first novel of a young woman writer, Ting-yin, pen-named Chu Xun (LEE Sinje), has become the bestseller in South East Asia. Her novel is a love story that touches the hearts of all her readers... 
The film opens with Ting-yin starting work on the Recycle. After drafting a chapter, she stops. She even deletes the file which contains the draft from her computer... Later, she begins to see weird things. Some of the phenomenon cannot be explained. 
Ting-yin feels that the supernatural events depicted in her fictional work begin to unfold in the real world! Ting-yin finds it increasingly hard to tell what is real and what is imaginary...
More items to consider...