Real (2013) (Region 3 DVD) (English Subtitled) Japanese movie a.k.a. Riaru Kanzen Naru Kubinagaryu no Hi
$15.99 USD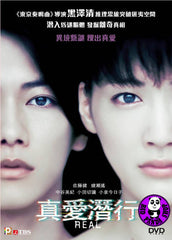 Region Coding: Region 3 (Locked)

Starring:
Sato Takeru
Ayase Haruka
Miki Nakatani
Joe Odagiri
Shota Sometani
Keisuke Horibe
Yutaka Matsushige
Kyoko Koizumi

Director:
Kurosawa Kiyoshi

Audio Tracks: 
Dolby TrueHD Advanced 96k upsampling, Dolby Digital EX

Language: 
Japanese

Subtitles:
English, Traditional Chinese, Simplified Chinese

Running Time: 
- minutes (TBA)

Distributor:
Panorama (HK)

Release Date:
24 Jan 2014

Synopsis:
Koichi (Takeru Sato) & Atsumi (Haruka Ayase) have been friends since their childhood days and they eventually became lovers. About one year ago, Atsumi attempted to commit suicide and fell into a coma afterwards. Koichi, desperate to know why Atsumi attempted suicide, takes part in a new medical procedure that involves the central nervous system. Koichi will enter the subconscious mind of Atsumi through the medical procedure.
When Koichi enters the subconscious mind of Atsumi, shes asks Koichi to find a picture of a "plesiosaur" she drew as a child. The drawing is the key that brings back a suppressed childhood memory that brings their minds together.


More items to consider...