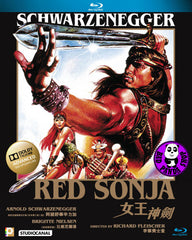 Region Coding: Region A (Locked)

Starring:
Arnold Schwarzenegger
Brigitte Nielsen
Sandahl Bergman
Hans Meyer
Terry Richards
Pat Roach
Lacey Ronald
Smith Paul L.
Agren Janet
Tutte Lemkow
Ernie Reyes Jr.

Director:
Richard Fleischer

Audio Tracks: 
Dolby Digital EX, THX Surround EX

Language: 
English

Subtitles:
English, Traditional Chinese, Simplified Chinese

Running Time: 
90 minutes

Distributor:
Panorama (HK)

Release Date:
16 April 2013

Synopsis:
Arnold Schwarzengger returns to the sword-and-sorcery realm as Kalidor in Red Sonja, based on stories by creator Robert E. Howard. Brigitte Nielsen is flame-haired heroine Sonja, leading a glorious quest in a mystical land where fortress walls have faces, dinosaur bones form a bridge, a lethal mechanical serpent writhes, swarming minions follow a vile queen... and where heroes lay claim to legend.
More items to consider...