Resident Evil - Afterlife 2D + 3D Blu-Ray (2010) 生化危機4 戰神再生 (Region A) (Hong Kong Version) a.k.a. Resident Evil 4
$29.99 USD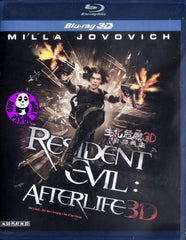 Region Coding: Region A (Locked)

Starring: 
Milla Jovovich
Ali Larter
Wentworth Miller
Kim Coates

Director:
Paul W. S. Anderson

Audio Tracks: 
DTS-HD Master Audio 5.1

Languages: 
English

Subtitles: 
Traditional Chinese 繁體中文字幕

Running Time: 
97 minutes

Distributor:
Edko Films

Release Date:
23 Dec 2010

Synopsis:
From Academy Award-winning filmmaker Andrew Stanton (Best Animated Feature Film. Wall-E 2008) comes John Carter, a sweeping action-adventure set on the mysterious and exotic planet of Mars. Based on Edgar Rice Burroughs classic novel, John Carter is a war-weary, former military captain who's inexplicably transported to Mars and reluctantly becomes embroiled in an epic conflict. It's a world on the brink of collapse, and Carter rediscovers his humanity when he realizes the survival of Mars and its people rests in his hands. With stunning special effects, great characters and villains, John Carter is a heroic and inspirational adventure that will thrill you beyond imagination.

Special Features:
Deleted Scenes
Back Under The Umbrella: Directing Afterlife
Band Of Survivors: Casting Afterlife
Undead Dimension: Resident Evil in 3D
Fighting Back: The Action of Afterlife
Vision of The Apocalypse: The Design Of Afterlife
New Blood: The Undead Of Afterlife
'Pwning' The Undead: Gamers Of The Afterlife

This Blu-ray set contains both the 3D version and the 2D version. To play the 3D version, you need a 3D Blu-ray player and a 3D compatible display that supports 3D glasses (glasses are not included for this item).
More items to consider...