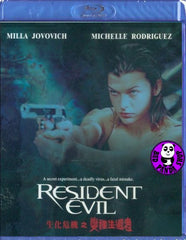 Region Coding: Region A (Locked)
Starring: 
Milla Jovovich
Michelle Rodriguez
Eric Mabius
James Purefoy

Director:
Paul W. S. Anderson

Audio Tracks:
Uncompressed PCM 5.1
Dolby Digital 6.1 EX
THX Surround EX

Languages: 
English

Subtitles:


Traditional Chinese 繁體中文字幕

Running Time:
100 minutes

Distributor:
Edko Films

Release Date:
11 Aug 2011

Synopsis:
A secret experiment... a deadly virus... a fatal mistake. A deadly viral outbreak occurs in the Hive, an underground genetic research facility run by the Umbrella Corporation. In response, the Red Queen - a vast supercomputer that controls and monitors the Hive - seals the entire facility. A rescue team has to enter the Hive and isolate the virus. But they soon discover that the staff in the Hive are now the ravenous, zombie-like undead. The team is attacked and some team-mates are infected. Are they doomed to turn into the ndead? Who, if anyone, will escape the evil Hive complex alive?

More items to consider...