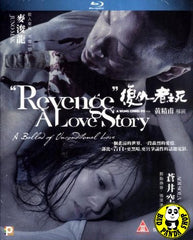 Region Coding: Region Free
Starring:
Juno Mak
Aoi Sola
Anthony Lau
Chin Siu Ho
Tony Ho

Director:

Wong Ching Po
Producer:
Conroy Chan
Audio Tracks:
Dolby TrueHD
Languages:
Cantonese, Mandarin

Subtitles:
English, Traditional Chinese

Running Time:
91 minutes
Distributor:
Panorama (HK)

Release Date:
15 April 2011

Synopsis:
From a gory slasher to a twisted love story, Josie Ho's 852 Films is quickly becoming the go-to solution for Hong Kong audiences thirsting for local alternative genre films. Their second production stars pop singer Juno Mak (who also wrote the script) and prominent Japanese adult film actress Sora Aoi as lovers brought over the edge by vengeance. Working beyond the boundaries of commercial appeal or good taste, Mak and director Wong Ching Po are sure to offend a few people with their violent take on love and vengeance.
More items to consider...