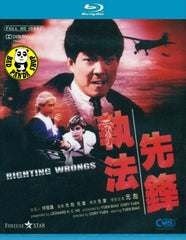 Region Coding: Region A (Locked)

Starring: 
Yuen Biao 元彪
Cynthia Rothrock (羅芙洛)
Fan Siu Wong 樊少皇
Melvin Wong 黃錦燊
Wu Ma 午馬
Roy Chiao 喬宏
Lau Siu Ming 劉兆銘

Director: 

Corey Yuen 元奎


Audio Tracks: 
Dolby TrueHD 7.1, 6.1

Languages: 
Cantonese, Mandarin

Subtitles: 
English, Traditional Chinese

Running Time: 
97 minutes
Distributor:
CMS Media Limitied (HK)

Release Date:
26 July 2011

Synopsis:
This is the first case for young public prosecutor Yuen Biao. The People vs. drug kings Paul Chang and James Tien. Yuen is sure of conviction as Uncle Sing has agreed to testify in court. The sky falls on Yuen who learns Uncle Sing and his family are murdered the night before. Both defendants are set free on lack of evidence. A deeply outraged Yuen decides to take law into his own hands. He goes out and kills Paul Chang. Station chief Wong orders Cynthia Ruthrock and Yuen Biao. She and Kway start to shadow Yuen Biao. Yuen Biao slips James Tien's home only to find him killed. He has to fight off a determined Ruthrock to get away......
More items to consider...